12 In 1 Kitchen Multi-function Chopper
Product description:
-Easy to use and clean,saving your time and improve efficiency of cooking.
-12 in 1 does not take up space, saving storage space but not reduce the function.
-Green healthy material ,hand protection design and more choice on vegetable cutter pattern.
Therefore,
Vegetable Chopper should be a must-have kitchen tool for every family kitchen. It can save time for you and make cooking easier. Specification:
Color: Blue,Pink,Green
Weight: 450g
Shape: Circle
Size: 11.77*8.26*3.43in(29.9*21*8.7cm )
Material: Stainless Steel,PP,Wheat straw
Type: Fruit Vegetable Cutter;Vegetable Slicers;Carrot Ginger Grater
Function: Cutter/Slicer/Grater/Egg separator/Storage/Water filtration Products include:
Cutting board*1
Water filter basket*1
Hand guard*1
Planer*1
Egg white separator*1
Suspension handle*1
Stylish knife*1
Filament cutter*1
Thick wire cutter*1
Slice cutter*1
Milling cutter*1
Thick slice cutter*1
--The blade is very sharp. Please use it with caution. Keep away from children and avoid high temperatures.
-- When cutting food, use a safety guard to protect your fingers being scratched.
-- Please drain the water and store or hang it after cleaning the food slicer.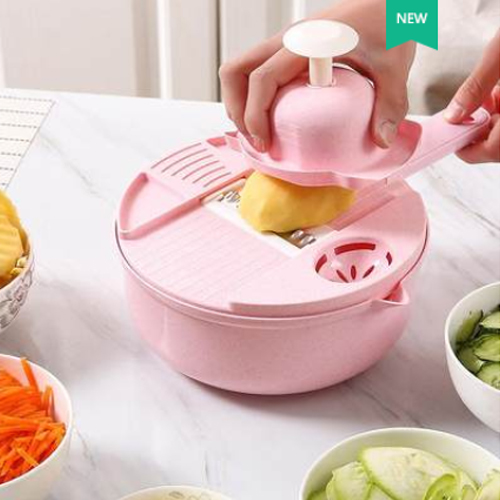 ---