120W 3 In 1 Wet and Dry Dual-use Ultra-High-Power Car Vacuum Cleaner
Bullet Points:
1、Built-in Aromatherapy: The vacuum cleaner has built-in aromatherapy to make the car full of charming fragrance while removing the dust in car.
2、Strong Suction Power: With strong suction power, the cleaner can quickly remove dust to make car clean.
3、LED Light: With LED light, the vacuum cleaner is easier to clean, very practical design.
4、Double-layer Filter: With double-layer HEPA filtering, the product can effectively intercept various harmful substances such as dust, hair, bacterial allergens, pollen, etc.
5、No Ash Leakage: With double-layer purification filtering and strong suction, there is no ash leaked.
Instructions for use:
1. Insert the cigar lighter plug into the car lighter hole.
2. Turn on the switch.
3. Replace different nozzles according to different occasions.
4. When absorbing water, please pay attention to open the front cover in time.
Specification:
Color: black, white, pink
Size: about 24 * 22 * 8cm/ 9.45 * 8.66 * 3.15in
Weight: about 0.67 kg
Power cord length: about 5m
Electric pressure: 12V
Power rate: 120W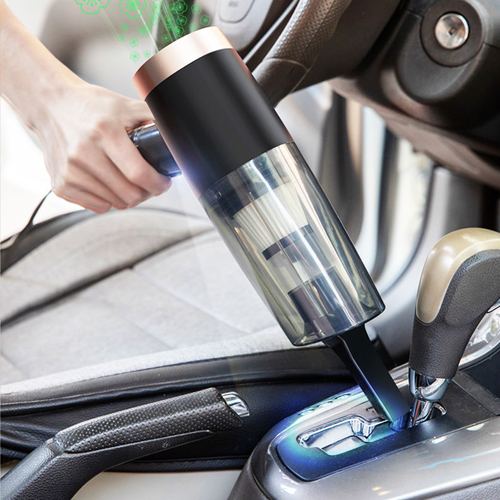 ---