Little Bear Home Automatic Double Bucket Ice Cream Machine
Product details
Mug design comes with 2 bowls, easy to serve, easy to share. You can make two flavors at one time-share and Cheers with your family and friends.
All parts detachable, easy to operate, and the extra housing Cover can be removed, keep cool for a longer time, also easy to remove for cleaning.
Supreme effect coolant liquid inside freezer bowls. Make super-fast ice cream, just take 15 - 20 minutes!
Both electric and manual options available. Motor with on/off switch button & 2 Direction turning. It will make the mixing fully, and frozen desserts or drinks taste smoother and richer.
Completely your decision of the ingredient! Create your own flavor! Also a more healthy dessert, calorie-controlled! Affordable and healthy.
BRAND: Bear
MODEL: BQL-A10E1
CONTROLLING MODE: ON/OFF Button, Auto, Adjustable Dial

FEATURES:
Preparing a fresh batch of homemade ice cream from scratch is a great way for your friends and family to bond and have fun in the kitchen.

Making your own ice cream will not only help you avoid the harmful and calorie-laden ingredients present in store-bought treats, but it can even be used to whip up nutritious desserts while boosting your intake of Vitamins and minerals.

This ice cream machine uses a mug design with a total of 2 bowls. This design takes into account the daily sharing of you and your family and friends. You can enjoy the delicious ice cream and feel the sweet taste!

All parts of this ice cream machine can be disassembled, no need for complicated operations, easy to master the method of making ice cream! Come and create your one-of-a-kind ice cream dessert!

This ice cream machine is made up of two separate mugs. When the ice cream is finished, you can pick up one of the mugs for tasting. This user-friendly design allows you to easily enjoy ice cream anytime, anywhere.

❄ prepare the inner bowl in the freezer for 8-12 hours.
❄ Choose recipes you like and prepare ingredients.
❄ Put the inner bowl in the base, mix your ingredients together and pour it into the inner bowl.
❄ Turn on the machine and set the timer, The paddle will do all the work.
❄ You can still add ingredients while stirring.
❄ Enjoy ice cream!

Note: *chill the ingredient to 15--20 ºC, the machine will make ice cream faster. The mixing bowl must be completely frozen before use. You can know this through shaking the container, if you cannot hear the liquid sound, then already freeze completely. *Don't touch the frozen container with wet hands.*Never use the hot mixture to the inner bowl. *Don't run the ice cream maker in the freezer. Wooden or plastic Scraper is suggested to avoid damage to the container. Wipe the motor with dry cloth when powered off.

RATED POWER: Rated Power: 7W / Rated Voltage: 220V-240V / Frequency: 50Hz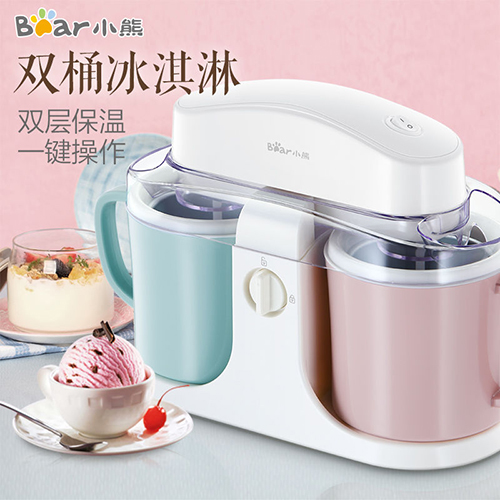 ---