Mini Multi-functional Double-decker Egg Cooker Stainless Steel Egg Steamer
Product Details:
Boiled eggs number: 7 -14 eggs
Function: steamed pasta boiled eggs fried eggs cook custard cook pasta
Rated Voltage: 220V~50Hz
Rated frequency: 50
Rated Power: 350W
Material: Food Grade PP
Material of Heater: Stainless Steel
Estimated Weight: 0.65kg
Color: Pink, White
Product accessories include:
Top cover
Double-layer steamer
An egg white separator
A measuring cup
User guide
Product Description:
Transparent Top Cover
Easy & Convenient to use
Prevent Hot Handle

User steps:
1.Add water.
2: Put the food on the steamer.
3: Start up, close the cover, turn on the power and press the switch, the light will be on.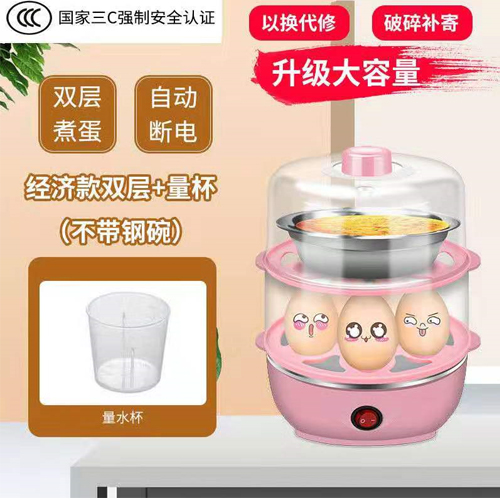 ---