Non-stick Electric Grill Pan and Square Shabu-shabu Pot
Features:
A unique 2 in 1 Barbecue Pan, you can achieve the perfect combination of cooking food and barbecue.
Thickening aluminum baking pan, no rust,high hardness,heat evenly.
The baking pan surface with non-stick coating, can effectively inhibit fumes, care of your health.
Using high-quality electronic components, fast and evenly heating, long service life.
The bottom with large area cooling holes, can effectively speed up work efficiency of the pot, extend the service life.
Multi-function knob control, you can freely switch the cooking method you want.
Specifications:
Voltage:220V/50Hz
Power:1100W
Color:Black
Package Included:
1 x Electric Baking Pan
1 x Pot Cover
1 x Power Cable
Instruction:
Switch the button to the lowest temperature level, plug in the power supply and wipe a layer of oil in the pan
Switch the temperature button to a suitable level refer to cooking temperature table
Wait signal light is on, which means it is working normally and it signals automatic adjusting of temperature by the cookware itself
After usage, switch the button to the lowest temperature level and pull out the controller plug
Pull out the plug and clean the the grill pan & hot pot after it cooled down to the room temperature. Put it in the package box after dry out, avoid exposing it in direct sun light. Storage it in dry and safe place.IMPORTANT
NOTE:
To prolong life span of the grill pan:
Before fring, stewing, simmering, please don't forget to WIPE a layer of OIL on the pan
Instead of using hard material shovel to cook on the grill pan, use wood, bamboo, silicone or other soft material spatula.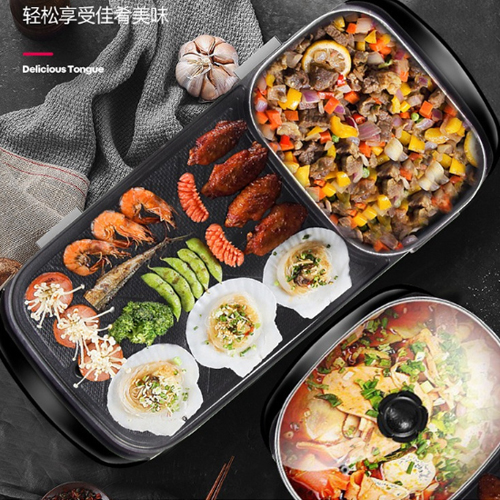 ---