One touch can opener
Description:
This is the New One Touch Automatic Can Jar Opener Tin Open Tool Cordless Battery Operated. With the One Touch Jar Opener, you'll be able to twist off jar lids that are seemingly impossible to open. One touch jar opener is completely automatic and safe, just a single touch of a button and your jar opens in seconds. It grips nearly any size jar firmly and clamps itself onto the lid. Then the powerful, high-torque motor exerts up to 25 pounds of force to unlock the lid, releasing the seal with ease. One touch jar opener opens all jars with 1-inch to 4-inch diameter lids and is powered by two AA batteries - not included. It stores conveniently in your kitchen drawer.
Features:
1.100% Brand New and High Quality.
2.Simple operation: Just press the only button on head the Can Opener will automatically shuts off the lid for you.
3.Safe with no sharp edges.
4.No need to hold the can with your hands while using. Totally hands free.
5.Opens Cans of all sizes.
6.Perfect for kitchen, house using or picnic.
7.Use 2 x AA batteries (not included).
9.Size:16*3cm(1cm=0.39inch).

How to use:
1.Install battery.
Press the direction of arrow with your thumb on the bottom of the Jar Opener and push up.
Correctly install the TWO AA batteries as the positive and negative pole direction .
Reinstall back the bottom cap of the Jar Opener on the Jar Opener after successfully install the two AA batteries.
Do not mixture use the new and old batteries or different kinds of batteries.

2.Start the Jar Opener.
Put the groove of the Jar Opener on the margin of the can.
Press the "Start"button about 1 second till the Jar Opener starting, then let it go. The Jar Opener will automatically stop when finished opening the cap of the can.Take the Jar Opener after opened the can, the magnet on the Jar Opener suck the can cap, so the can cap will be removed with the Jar Opener at the same time.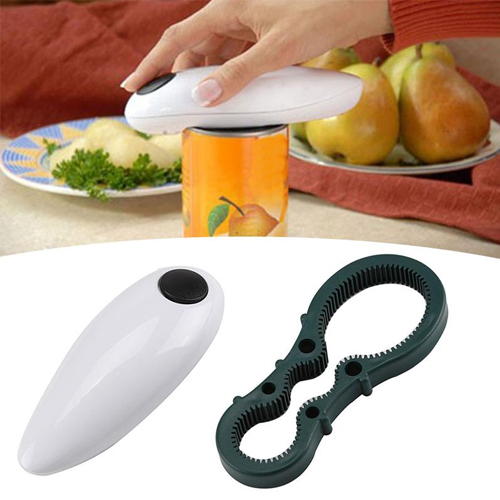 ---